Filter Help
1. Look for the part number on the end cap first
The END CAP helps to provide structural support and increase filter cartridge durability. Unlike any most other filter cartridges manufactured for the pool & spa marketplace, Pleatco Filter Cartridges have end caps that are 100% Antimicrobial and the Pleatco PART NUMBER is boldly molded into the end cap for quick and easy identification.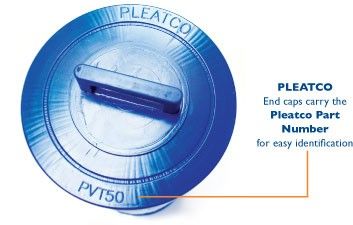 2. Measure the filter cartridge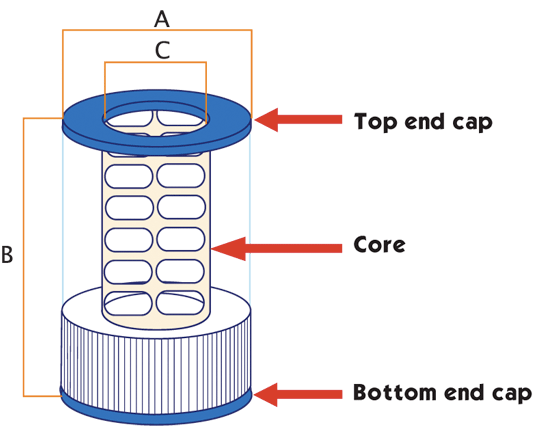 A. Measure the outside diameter of the cartridge.

B. Measure the overall length of the cartridge including the end caps.
Do not include any handles, strings, etc.
A more accurate measurement is made by measuring through the center of the cartridge when possible.

C. If the top and/or bottom is open, measure the inside diameter of the opening.
Match the cartridge end cap configuration to a corresponding one in the complete end cap gallery.

D. Make note of the manufacturer (OEM) and model number of the filter the replacement cartridge will be installed in.

E. Take note whether or not there is a center core in center. Also count the number of pleats
Please Note: Filter Cartridge Measurements may vary.
Always allow a variance of: (+/- 1/16" or +/- 1.6mm)


3. Use our Filter Search Engine to find a replacement.